Randall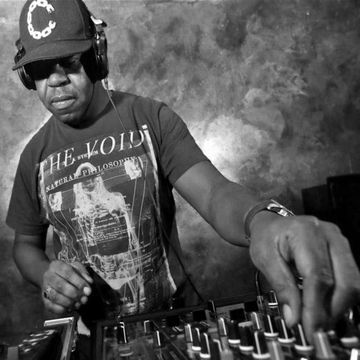 Download presspack >
Randall started DJing at the age of 17, introduced to DJ scratching and mixing by a friend at college who was fortunate enough to be close to DJ Pogo/Cut Master Swift and some other well-known UK DJs from the 80's. It was at the 1987 Notting Hill Carnival Randall experienced Acid House music for the first time:
"I had to know more about this new sound I had witnessed… the way it brought all kinds of people together - all getting down to the sound was inspiring…" (Quote: Randall)
After this he started buying records and listening to DJs like: Rhythm Doctor, Rob Ackinson, Lindon C, Mr C (-all members of the 'Hypnosis' crew) and Rhythm Doctor, whose way of mixing blew him away and pushed him to hone his own style. Randall is definitely a natural when it comes to mixing, saying that the basics took him only a week to learn. However, to become the artist he is today- he still had to continue refining his skills by studying music and making mix tapes every week. One of these tapes started to do the rounds, and in turn got him the chance to play out at 'Delirium' crew's warehouse parties in Stratford, London. This opportunity got him noticed and he was soon after offered a regular slot on legendary East London pirate radio CentreForce FM (in 1989) and it was here his reputation really started growing.
"I've always had broad tastes and, as long as those beats are running, there's easily enough room in my set to contrast a wide range of flavas…" (Quote: Randall)
Not content with his sound being across the airwaves of London, and playing out at the illusive illegal raves of the time. Randall pushed harder, recalling his big break to be when he got a gig playing at 'Living Dream' at Eastway Speed Stadium in Leyton a10,000 capacity event. Colin Dale didn't turn up for his set and Randall ended up playing a three-hour set a feat that got people talking! This not only directly lead to a Saturday night residency that lasted three years with the infamous 'Orange' at the Rocket Club in Holloway road, London (along side DJs Hype, Grooverider, Fabio, Rap, Squirrel etc)… But also saw Randall playing out with the 'AWOL/World Dance' crew at the Paradise Club, Islington (with other legends Mickey Finn, Kenny Ken, Darren Jay, Gachet and MC GQ). This circle of friends and crews found Randall at De-Underground Record shop making history, as we know it with DJ Cool Hand flex & co-founding Mac II Recordings.
Randall's style has always been fluid and probably always will & changes in his selection have been noticeable in the past couple of years, with more emphasis on "darkside flavas" than before. This can be illustrated crudely by his transformation from AWOL resident to a Metalheadz regular. Randall is simply reflecting what's going on around him and, even though some might say his sound has got 'darker', he inhabits that overlap between 'jump-up' jungle and 'darkside' drum & bass.
"When you have nothing, your hunger can focus your mind to the task in hand, and sometimes it's a harder job remaining at the top once you've got there than getting there in the first place. This situation increases the longer you're there…" (Quote: Randall)
Whilst he doesn't guard against complacency consciously, a significant factor to his continuing success is his sheer passion for the music. You can sense it in his voice when he talks about particular tunes and you believe him when he says that it is a kind of drug to him, needing a fresh 'fix' of tunes in his box every week.
When it came to compiling & mixing the drum & bass third of the "Dreamscape" CD, Randall was offered Pro Tools technology which basically would have done it all for him. He however, didn't like this approach to creating, and as he had all the tunes on vinyl, said he would rather do it on decks. The only problem was finding the first tune, but once he settled on Dom & Optical's "Quadrant 6", he rolled out the rest first time in true traditional Randall style. The mix also features the vocal talents of his long time MC, Fats; and while his soulful style of MCing might not be everyone's cup of tea, it compliments the hard-edged music perfectly.
Randall is better known as a DJ than a producer, he is nevertheless no stranger to the studio having co-produced "Sound Control" with Andy C in '95, "Flava's" with Tek 9 on Reinforced's "Above The Law" album and "Hard Noize" with Tee-Bone on his "Strictly Business" compilation. Even with such renowned collaborations, Randall is still in no rush production-wise; probably he thinks, 'because of everyone's high expectations through his Djing'; and is under no illusions about his position in the production game.
"I'm at the starting post of making music, and all I'm getting from people that I know that are well in it, doing albums and what not, is 'Take your time'. If you love it enough, it will come. I might not make a tune that hits top ten, but if I make a tune that satisfies my heart; that will be enough. It's quality not quantity that counts to me, but at the end of the day, I just want to make good tunes and be out there representing." (Quote: Randall)
Through his determination to learn the ins and outs of production; the birth of his label 'Mac II Recordings' (1996) and his latest label the 'Step back sessions' (2009) Randall is set to be known as a producer as side from his legendary status as a DJ.