Jenna G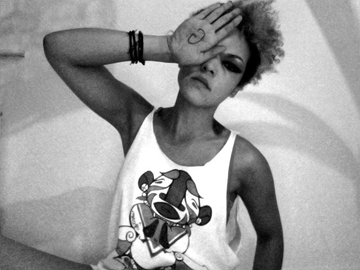 Download presspack >
"There are winds of change blowing in the music industry and this is one artist that signifies that movement."
Strong, emotive and sexy, meet Jenna G —self confessed music fiend, actress, broadcaster, performer and artist. The often called, Queen of Drum & Bass has for 10 years been at the forefront of the underground music scene, with her powerful vocals, emotive lyrics, bona fide sound, energetic live performances and of course her striking-yet ever-changing good looks and infectious personality.
Jenna's continued dedication to "the sound" has solidified her as one of the THE most successful female Bass artists to date and has enabled her to work with almost all of the industry's most respected luminaries — Chase n Status, D-Bridge, DJ Zinc, Goldie, A-Sides, Marcus Intallex, DJ Mark, Logistics, Clipz, Craggz & Parallel Forces, The Qemists, A.I., Kabuki, DKay,DJ Die and many many more.
On her Debut album for For Lost Friends Jenna captured the heart of the drum and bass massive by letting her imagination and emotions run wild. One minute she's soaring untouched lands, the next alone in a cold flat fighting her demons. Then in the blink of an eye she's in passionate, sexy lust with someone's strong arms around her waist, a prelude to the mighty feeling of being In Love.
Having peformed on every continent and with a few top forty hits under her belt, Jenna is still releasing and performing all over the globe with veteran producers like Zed Bias, Dj Die & Blame plus collaborating with hot new talents like Engine-Earz, Netsky, Krystal Klear, Mutated Forms, D1, Doctor P, Camo & Krooked and Atomique.