A Sides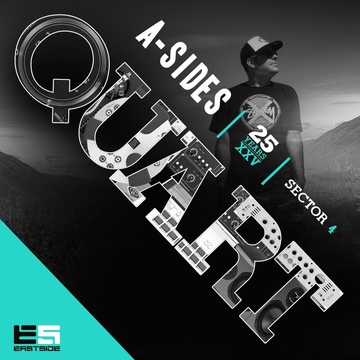 Download presspack >
A true veteran DJ, producer and engineer, A Sides has an epic collection of releases to his name making him one of the most prolific and versatile artists in drum & bass. Over the course of his extensive career, A Sides has never limited himself to a single style and has proved to be a highly capable selector whatever style he is drawing for.
Reaching out with a sound that has truly global appeal, A Sides continues to tour the world over and 2014 has seen him grace the turntables in places like Australia, New Zealand, Czech Republic, Germany, USA, Austria as well as Fabric and Plan B in London. Upcoming shows are also scheduled to take place in Ireland, Sardinia, Dubai, Holland, Belgium and Russia.
A Sides has been producing music since 1990 and has released well over 500 tracks to date across many of the scene's biggest labels such as Metalheadz, Valve, True Playaz, Bingo, Innerground, Reinforced, Advanced, Liqweed Ganja, Spearhead and Hospital to name but a few. A Sides has a discography of truly epic proportions.
He established his own label Eastside Records in 1996 and has since put out over 85 releases, including two compilation albums (Eastside Jamz Volumes 1 & 2) as well as A Sides solo albums "Follow The Groove" "Worldwide" "Mysterious Vibes" "Based Upon Bass" and the most recent album album "Revisited" which will release in September 2014.
A highly accomplished engineer as well as an artist in his own right, A Sides has collaborated with the likes of Calibre, Makoto, DJ Marky, Break, Jo-S, Kemo, Deeizm, Mc Mc, Randall, Jenna G, Mark de Clive-Lowe, Omar, Shiela E, Vanessa Freeman, Goldie, Spikey Tee, Mayday, Kevin Field, Lady Leshurr and Nathan Haines (under the guise of Sci-Clone)
His long-standing partnership with MC Fats has borne some of his biggest tracks to date, including the massive hit "What U Don't Know" which featured on A Sides' debut long-player in 2003. For most of 2013 and 2014 he has been the figurehead behind a fundraising album for MC Fats who has been suffering with health problems related to diabetes. He has managed to put together an album with over 40 tracks from many high profile artists.
Those involved the We Gotcha project are S.P.Y, Makoto, Command Strange, Bailey, Serum & Bladerunner, D-Bridge, DJ Zinc, DJ Hype, Potential Bad Boy, Will Miles, Random Movement, Brother, DJ S.I.N, Crix, Cleveland Watkiss, Total Science, Calibre, Need For Mirrors, HLZ, Chef, Quadrant , Iris & Kid Hops, TC, Cabin Fever, Break & Die, Basher, Emery, Alix Perez, Emtek, LAOS, Mackadena, MC Random, XRS, Regina, Ego Trippin, Dom & Roland, Callide, Eveson, MR Joseph, R1 Productions, Marvell, John B & Mr Explicit.
A veteran of the scene from the early days, through hardcore to jungle to drum & bass, his influence has been immense. Over the years he's taken on the role A&R for many labels, including of course his own imprints Fuze and Eastside, and was among the first to recognize and nurture the talent of producers such as Break.
Always moving forward and shaping new styles, in 2008 he established BassHead Music together with Juan BassHead aka DJ Burn to showcase the finest in alternative bass heavy beats.
After a successful debut (feat. 12th Planet and Skream) there have been releases from Otto Von Schirach, Noah D feat. Einstein, Datsik, Bassnectar, Silver, Bare, Break, Serum, North Base, Figure, Hulk, Zed's Dead & The Killabits. Following this a compilation album All Killer No Filler was also release seeing Basshead regulars stepping up alongside new artists such as Mr Explicit, Total Science, DJ Sneak, Jah Free and Agzilla.
With a diverse music policy, encompassing bass-heavy beats, BassHead has some exciting projects in the making over the next 12 months. To add icing on the cake Basshead won the 2013 Red Bull Culture Clash in Miami making them a force to be reckoned with.
Upcoming projects include a 14 track collaboration album with Japanese produce Makoto which they have been working on over the last 2 years. This highly anticipated album should see a full release in early 2015.
Finally after hearing the track "Teardown 2K14" from his latest album "Revisited" on pirate radio station Kool FM A Sides was approached by the legendary musical tastemaker Gilles Peterson who invited him to record a special Worldwide Mix which will be aired on Gilles Petersons Worldwide network in September 2014.