Power Rinse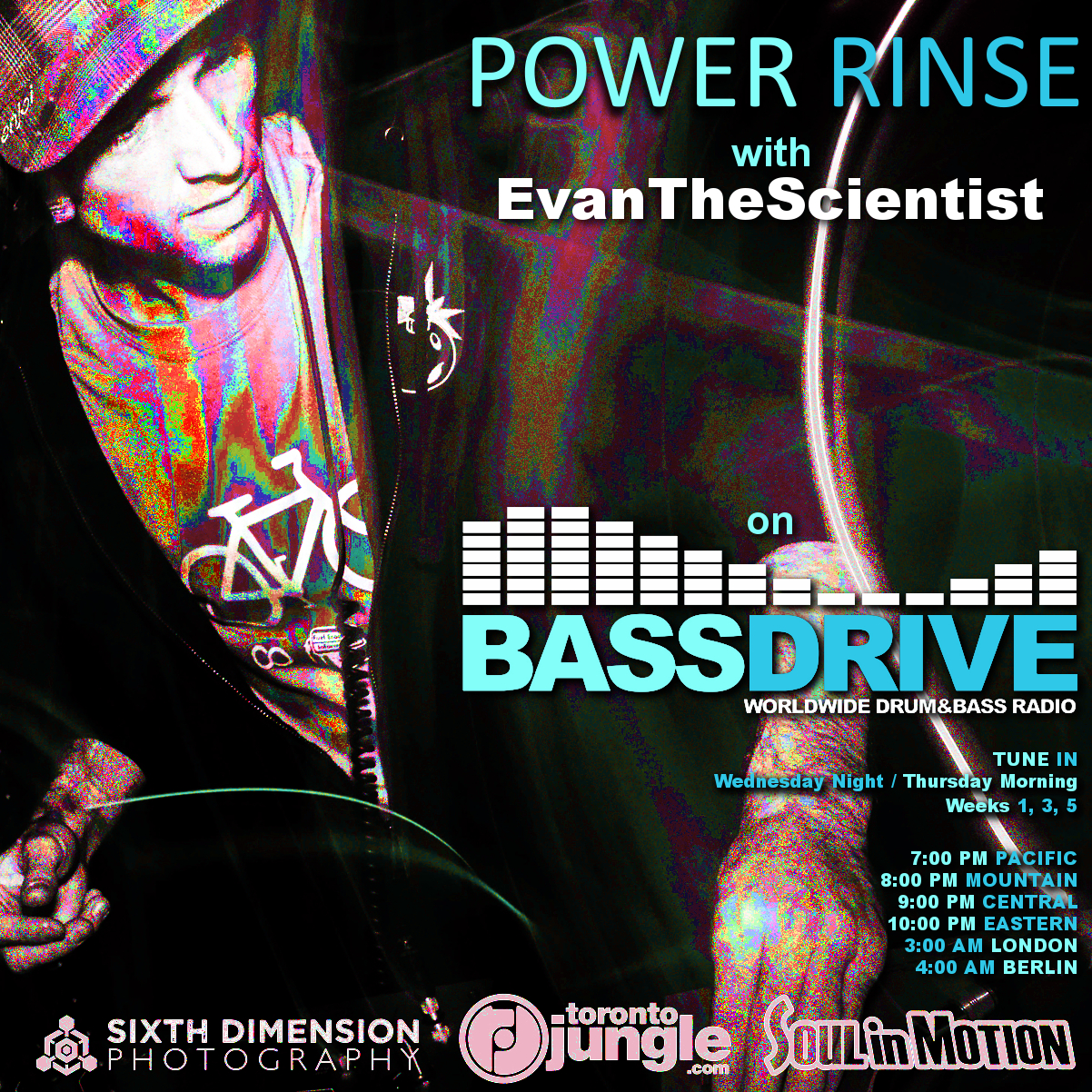 Location:

Toronto, Canada

Show Time:

Wednesday

Start:

19:00

End:

21:00
Evan has been applying the Scientific Theory to Technics 1210 brand turntables since 2003;
There is a best way for one track to be mixed into another given any style of Drum & Bass- EvanTheScientist crushes this by always mixing dynamically, by ear, picking up and just going, and swiftly assessing the unique needs of every mix in the moment. The product of extreme self-criticism results in an excellent and always live show for you Wednesday nights.

Falling in love with local vinyl shops in the early 2000s, and well into the digital age, this Scientist always spends excessive amounts of time hand picking music. It all has to be listened to. No jumping to favorite label/artist/any-name. Despite excessive amounts of Bassdrive Radio listening, the excitement of discovering new names and captivating sound on ones own is still very real.
Never mixing less than twice a week from the very beginning, Evan, formerly DJ 'Marin', brigs 5 years of radio broadcast experience to the station. He has guest-mixed on Indentation's show: Impressions, Reflect's Location SixOneOh, and appeared Live in-studio over eight times with former Bassdrive host Micken on TheMixtest.

He has rinsed out such Toronto venues over the last decade as: Flirt Nightclub, Tota Lounge, The Annex Wreckroom, The Detour, The Last Class. Many outdoor festivals, friend-thrown-events, restaurants, pubs at York University, Brampton, Barrie, and in the Newmarket Ontario area. He has opened for many hometown-heroes such as Rene Lavice, Marcus Visionary, and has made countless mixing buddies- some having their first mixes with Evan and having it grow into a passion of their own.
Powering through his favorite tracks and the most interesting sounds of the current- get interactive in the mix LIVE on Power Rinse; Wednesday (Weeks 1, 3, & 5).