Eastside Sessions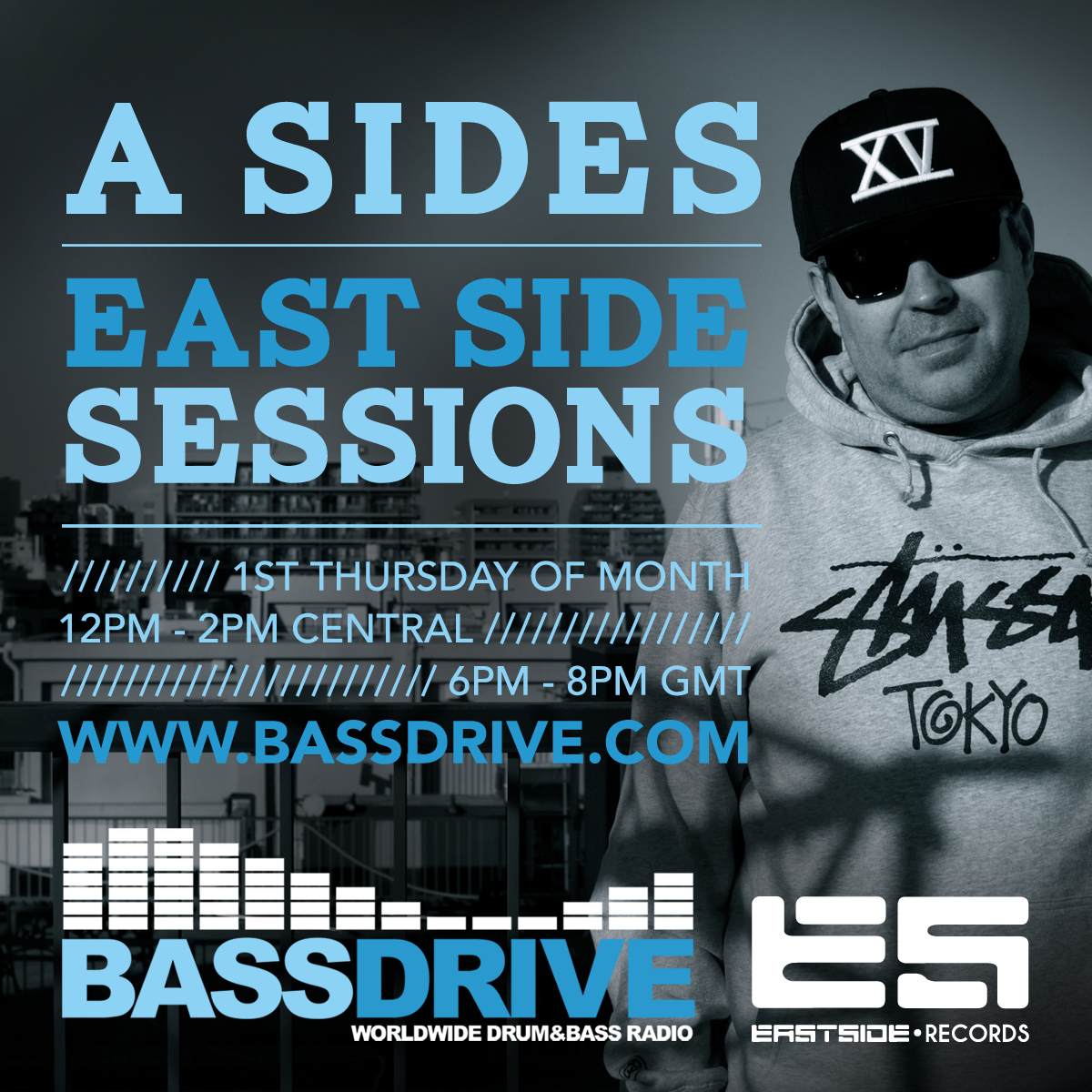 Warning: file_get_contents(http://soundcloud.com/oembed?format=js&url=https://soundcloud.com/djasides&iframe=true): failed to open stream: HTTP request failed! HTTP/1.1 403 Forbidden in /foo/home/virtual/bassdrive.com-new/www/ext/modules/bass_ext/helpers.php on line 4
Location:

London, UK

Show Time:

Thursday

Start:

12:00

End:

14:00
DJ, Producer and Engineer, Jason Cambridge (aka A Sides) has been producing music since 1990 and has released well over 500 tracks to date across many of the scene's biggest labels.

With tracks released on labels such as Metalheadz, Valve, True Playaz, Bingo, Innerground, Violence, Hardleaders, Allsorts, Grid, Reinforced, Advanced, Strictly Underground, Advanced, Just Another Label, Reel 2 Reel, Liq-weed Ganja, Clear Skyz, Spearhead, Human Elements, and Hospital to name but a few, A Sides has a discography of truly epic proportions.

A Sides established his own label Eastside Records in 1996 and has since put out over 85 releases, including two compilation albums (Eastside Jamz Volumes 1 & 2) as well as the A Sides 3 solo albums 'Follow The Groove' 'Worldwide' and "Mysterious Vibes'

A highly accomplished engineer as well as an artist in his own right, A Sides has collaborated with the likes of Calibre, Makoto, Jenna G, Break, Deeizm, Peshay, Digital, MC Kemo, KJ Sawka, Mark de Clive-Lowe, Dj Randall, Goldie, DJ Marky and Nathan Haines (under the guise of Sci-Clone)

A Sides long-standing partnership with MC Fats has borne some of his biggest tracks to date, including the massive hit "What U Don't Know" which featured on A Sides' debut long-player in 2003. To catch the pair performing live is to hear drum & bass at it's finest, with the deep soul sound of MC Fats bringing the perfect compliment to A Sides razor sharp beats.

A veteran of the scene from the early days, through hardcore to jungle to drum & bass, his influence has been immense. Over the years he's taken on the role A&R for many labels, including of course his own imprints Fuze and Eastside, and was among the first to recognize and nurture the talent of producers such as Break.

Always moving forward and shaping new styles, in 2008 he established BassHead Music together with Juan BassHead to showcase the finest in bass heavy beats. After a successful debut (feat. 12th Planet and Skream) then following releases from Otto Von Schirach, Noah D feat. Einstein, Datsik, Bassnectar and Zeds Dead & The Killabits. Remixes have also been supplied by high profile artists such as Serum, Break and DJ Sneak. With a diverse music policy Basshead encompasses not just Dubstep and Drum & Bass but other bass-heavy beats. Expect more exciting projects over the next 12 months.

A Sides has been keeping himself busy in the studio since completing his last solo album. He is back in the studio again with Nathan Haines working on more Sci-Clone material and has been working on new remix projects. First up he has remixed 'Get Started' by Mark de Clive-Lowe which features Omar & Sheila E which will see release on Tru Thoughts. He has also been working with New Zealand based Pianist Kevin Field remixing 'Need You' which will see release on Warner Brothers in 2012. He also added remix duties to 'Lego' for up and coming EMI artist UK Rap sensation Lady Leshurr.

Over the course of his extensive DJ career A Sides has never limited himself to a single style and has proved to be a highly capable selector across multiple genres spanning from the most upfront Drum & Bass to Old School, Funk, Hip Hop and Soul to name a few. He has a reputation for sets that are tight and technical as well diverse. His career as a DJ has taken him worldwide, Playing in over 200 cities in over 40 different countries and every continent the world has to offer he is truly a Worldwide ambassador for Drum & Bass.