Represent Radio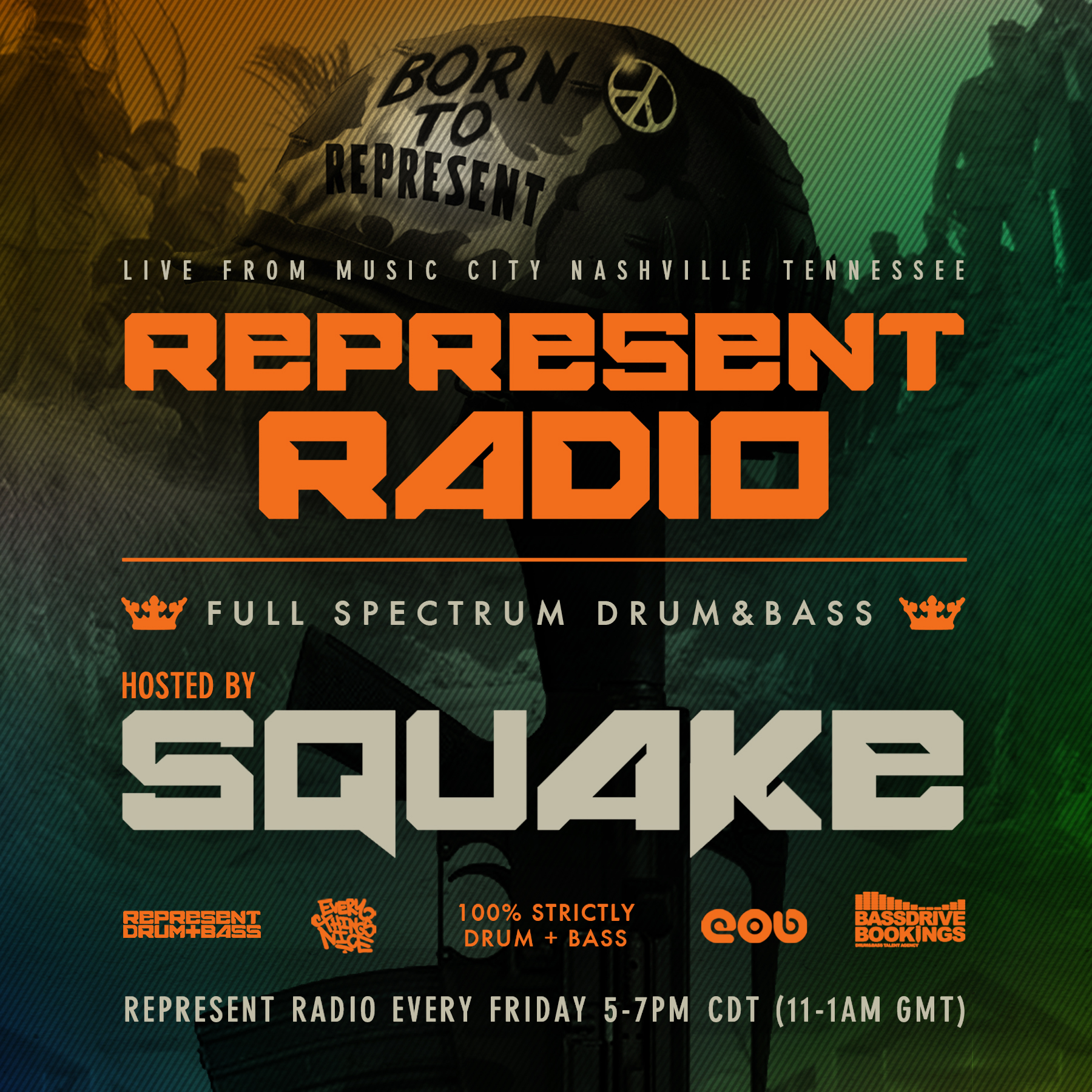 Location:

Nashville, TN, USA

Show Time:

Friday

Start:

17:00

End:

19:00
Represent Radio was launched by Squake in July of 2009, and hit the ground running. Broadcast on a weekly basis every Friday from 5pm to 7pm central time, Squake keeps his show fresh showcasing the newest released tunes, forthcoming dubs, and of coarse the classic anthems you have all grown to love.
Inspired by all aspects of music, Squake delivers a powerhouse mix covering the full spectrum of jungle and drum & bass each and every week. A veteran club DJ, novice producer, scene designer, promoter, and long time jungle punter, Squake's knowledge, experience and devotion to the scene shines bright when you hear him live in the mix.
Squake believes that drum & bass is more than just music, it is a consciousness, a way of life, and a tempo that he resides at constantly. Squake believes drum & bass connects all of us that are in search for community, vibe, and spiritual unity. Drum & bass is the universal language that brings people of all types, races, and gender together who are in search of that homogeneous vibe. Squake loves this music from all depths of his being, and you will experience a piece of this when you tune in, so get LOCKED!
Squake has been a nightclub DJ since early 2003. Breaking into the scene when jungle and drum & bass was still the true underground sound of U.S. dance music, Squake became instantly addicted to the vibe while attending the legendary Respect weekly nights in L.A. from 99'-03' Inspired by greats like MC Fats, A-Sides, Bailey, Andy C, Total Science, & Marky, Squake pushes boundaries with genres, holding intensely long mixes, utilizing 3 decks making his live performance a wild ride through all styles of hip hop and drum & bass.
Leading Nashville drum & bass for 5 years strong with his monthly night Represent, Squake is known through out Music City for pleasing heads, and keeping the crowds moving. With constant tours, and having appeared in Miami, Orlando, New Orleans, Austin, St. Louis, Cincinnati, Atlanta, Indianapolis, Chicago, Los Angeles, San Diego, San Francisco, Seattle, Charlotte, D.C, Boston, NYC, Paris, and most recently Sun & Bass on the sunny island of Sardinia, Itay, Squake stays on the road often, so look for him to invade your ears with a powerhouse mix of drum & bass that will not disappoint!